Steve Lewis has written one of the most bewitching characters to come along in contemporary literature. Not since Scarlett O'Hara has there been such a lovable vixen. He writes such pleasurable prose, it may take some reflection to realize how much wit and wisdom he shares with his readers. In the end, I was as smitten as his hapless grad student hero. Seasoned with insider's spice on the book business."
Laura Shaine Cunningham, Sleeping Arrangements, A Place in the Country
"In Loving Violet, Steve Lewis takes us to a prestigious liberal arts college, New York City, the beaches of Long Island, and Costa Rica with young writers pushed and pulled by extraordinary passion and abiding love. How do we choose--can we really choose--who we love and what we make of this life? Questions of the price of that love and what we invest in the art we make along with that love-- heart-wrenching and deeply thought-provoking in this extraordinary novel."
Jimin Han, A Small Revolution
"Loving Violet is an irresistible novel about the powers of love and art. Steve Lewis limns the inevitable progression from the heady infatuation of youth to a more settled love in later years. All the characters are vividly drawn and the writing has the clarity and grace that is characteristic of Lewis' work."
Angela Davis-Gardner, Butterfly's Child: A Novel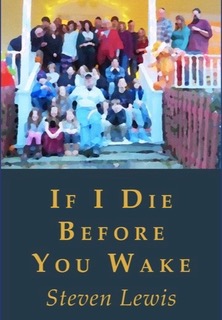 Steve Lewis's If I Die Before You Wake starts with the terror of realizing one will die and ends in gratitude and the realization "it never stops until you've had enough." Lewis's poems are filled with love including child-love, wife-love, friend-love, life-love, and love of place. Lewis knows and uses the power of names: Pamlico Sound, Barrier Island, Rodanthe. These are atmospheric poems, where there are "willets skittering at the edge of the surf," and "dunes are hurricane-flattened." Lewis creates still lifes with empty beach chairs, surf boards, water jugs, and towels covered with sand. Life-like, these poems braid beauty, love and loss: the death of parents, friends, and students. Throughout the book, Lewis's poems spark with with energetic sounds, meaning-drenched imagery, and Gertrude Stein-like repetitions that trance, pleasure, and give meaning-- "all the way home all the way home and all the way home/ all the snowy way home for all that snowy way home until I am all/ the way home."
Susan Firer, The Transit of Venus
In If I Die Before You Wake: Meditations and Intimations On Mortality, Steve Lewis writes with compassion and searing honesty about the inevitable movement through life and to death. This a tender, bittersweet song to family, to all the people that we love and lose, to the people who will remain behind after we die. It follows a spiritual journey in search of meaning and is imbued with the hope that these poems will speak for him when he can no longer speak for himself. What a powerful moving book this is!
Maria Gillan, What Blooms in Winter
In this thoughtful collection, Steve Lewis handles death—from the killing of a yard snake to the passing of close friends—with passion, grace, and, at times, humor. He puts it in perspective as a part of life, although he sometimes rails against that morbid reality, too. I came away from this meditation on death with a deeper appreciation for the tenuous gift of life.
Lawrence Kessenich, Cinnamon Girl
Steven Lewis's new book of poems, If I Die Before You Wake, offers a legacy of narratives, often lyrical, that celebrate moments in time, the landmarks of multiple generations. Here is the hard-won wisdom of mentor, father, grandfather, and husband that engages place, environment, and all-too-human relationships in equal measure with the human heart. But the specter of our universal ending resides in witness within most of these poems as "some common/sadness" always in the background, for the poet "a talisman of where he's going"—indeed, where we're all going. Yehuda Amichai once said "every poem is a lament," and that couldn't be a better blurb for this book. A thoughtful, moving, and warm read, indeed.
Gregg Weatherby, Approaching Home
TAKE THIS (Codhill Press)
Oh, the complications of love, marriage, family! They're all here in Take This. Steven Lewis handles his characters with gentleness and insight. If only all our faults could be judged by someone as compassionate as Steven Lewis.
—Ellen Bass, Like a Beggar
Steve Lewis knows that for many in the boomer generation, the Merry Pranksters' bus is now a Winnebago. But he also knows that the thrill of the trip is undiminished, the route, quite possibly, just as insane, the destination equally unknown. Along the way, Lewis documents—with tenderness, insight, and outright hilarity—all those ways in which the volatile forces and unpredictable circumstances that forge family bonds may be stronger than the errant behaviors that sometimes fray them.
—Akiko Busch, The Incidental Steward: Reflections on Citizen Science
Take This is a soulful gem of a novel, chronicling the last days of Robert Tevis, a psychotherapist with a big heart and no regrets. At turns funny and tender, author Steven Lewis takes readers on end-of-life road trip that leads them into territory that redefines love."
—Sally Koslow, The Widow Waltz

FEAR AND LOATHING OF BOCA RATON: A HIPPIE'S GUIDE TO THE SECOND SIXTIES
"Fear and Loathing of Boca Raton" is a bit like the response to a Zen Koan, a mindful extended reflection on the seemingly paradoxical wants and needs of the Question Authority Generation: a guided, self-guided, non-manual manual that captures the spirit and imagination of a spirited and imaginative generation still charting uncharted territory. In this fresh and present journey into the second Sixties (way way way out beyond the unholy trinity of Viagra, statins, and early bird specials), the reader finds resonant and funny and unpredictable licks on everything from post-fifty sex, drugs, and rock and roll to vivid recollections of Vietnam and Woodstock to compellingly impolitic advice about staying hip and relevant into and through the counter-culture's collective dotage.
Complete Guide for the Anxious Groom:
How to Avoid Everything that Could Go Wrong on Her Big Day
Although men traditionally set the marital ball in motion once the knee has hit the floor and the stuttering question is popped, the momentum quickly shifts into the control of the bride and her mother-or the indecipherable orchestrations of a wedding coordinator named Franz. From that point on, the future groom is typically clueless about the responsibilities and rights of the male partner during the wedding planning process.
Format: Paperback
Published: May 2004
The ABC's of Real Family Values:
The Simple Things that Make Families Work
An inspiring primer for parents on the basic and forgotten values children learn at homeThe contemporary family does not look exactly like it did fifty or a hundred years ago. Along the way it has become a little stretched and worn, patched and remodeled in ways that have changed its appearance but not its purpose -- to guide children from infancy to moral self-sufficiency. Parents are doing their best to navigate -- lead, follow, push, drag -- their children safely across the busy streets of modem life and learn a few lessons along the way themselves.The ABCs of Real Family Values offers inspiring, entertaining, and personal stories on values that keep children anchored and hold the family together. Formatted on the model of children's books of ABCs, this guide contains a collection of 52 essays, arranged alphabetically, on the following topics: Affection, Discipline, Fidelity, Humor, Manners, Obligations, Resilience, Tradition, and much more.-- Inspiring and accessible as the Chicken Soup for the Soul books, wise and simple as Life's Little Instruction books.-- The ABCs of Real Family Values is an anecdotal book with a positive, reaffirming message, celebrating the triumph of the contemporary family, not its disintegration.-- Includes meaningful quotes on parenting from prominent literary and cultural sources.
Format: Paperback
Published: June 1998
Zen and the Art of Fatherhood:
Lessons from a Master Dad
Motorcycles, business management, investing--Zen has been successfully applied to nearly every possible endeavor. Now, in this personal and completely delightful account of the triumphs and defeats he has faced in three decades of raising seven children, Lewis takes Zen philosophy to the most monumental level yet--the incredible journey of mutual understanding sought by father and child. Line drawings.
Format: Paperback
Published: May 1997
A MONTH ON A BARRIER ISLAND
Photographs by Tom Nolan; Poems by Steve Lewis
"When poet Steve Lewis vacations, he vacates nothing; his recreation is literally re-creating; the poems literally (and littorally) explicate, lifting away layer after layer of inessentials until only a zen-like calm remains."
Gary Allen, The Herbalist in the Kitchen and anthologist of Human Cuisine
In this beautiful book we are witnesses to the splendor of a radiant summer month on a barrier island. Through Nolan's stunning photography and Lewis' evocative poetry we settle into the perfection that infuses living in the fullness of family and love – with all its ebbs and flows.
Mihai Grunfeld, Leaving-Memories of Romania
This book contains a radiance of spirit that comes from the hearts of two fine men and will grace both your eyes and ears. Have you ever put your ear to a shell? Dug your toes into the sand? Lost yourself between the sea and the sky? Smelled the ocean before you see it? If you have, open this book and do it again!
Larry Winters, Making and Unmaking of a Marine
Published: December 2010